How do I measure my legs to select the proper graduated compression stockings?
Gone were the days when you had to wait for days to book your compression stockings and wait for the vendor to reach your place take your sizing and give you the proper compression stockings.
Today, its just a click and mostly delivered within 24 hours. Oh wait, are your wondering how do you measure yourself? We have 1000+ customers doing this every month!
Let me make this easy for you.
Before you begin cooking, you first collect all the necessary ingredients isn't it? Let us do the same
Important things you need to successfully measure your legs for the perfect compression stockings.
An easy to use measuring tape
A pen/pencil and a notebook to note down the readings
Let us break this activity into 3 steps
Step 1: Measurement of the Ankle (cB)
Hold the measuring tape from 1cm and measure the circumference of the narrowest portion of the ankle. For all Sorgen Compression Stockings, it is advisable to take the measurements in cm (Centimetres). The Ankle measurements are usually denoted as cB
Let us assume it is 26 cm
Step 1: Measurement of the Calf (cC)
Hold the measuring tape from 1cm and measure the circumference of the widest portion of the calf. For all Sorgen Compression Stockings, it is advisable to take the measurements in cm (Centimetres). The Calf measurements are usually denoted as cC
Let us assume it is 41 cm
Step 1: Measurement of the Mid-Thigh (cB)
Hold the measuring tape from 1 and measure the circumference of the mid-thigh(1 inch below the gluteal cease). For all Sorgen Compression Stockings, it is advisable to take the measurements in cm (Centimetres). The mid-thigh measurements are usually denoted as cG
Let us assume it is 62 cm
Once you have taken all the readings, take the sizing chart
The ankle reading is in the border of two sizes, in such cases always choose the larger size.
Therefore, we arrive at our size to be Large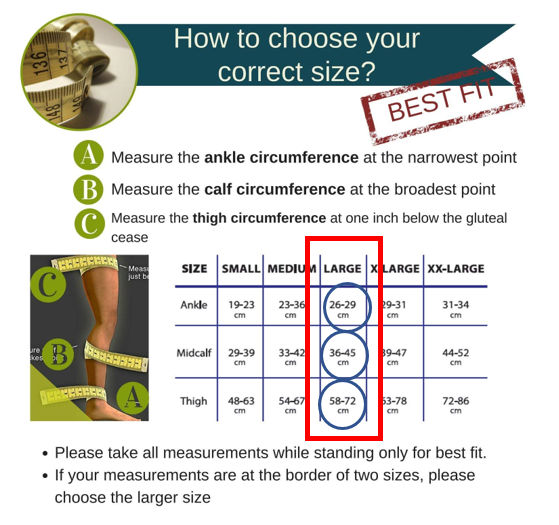 ---